What is the job outlook for civil and environmental engineers?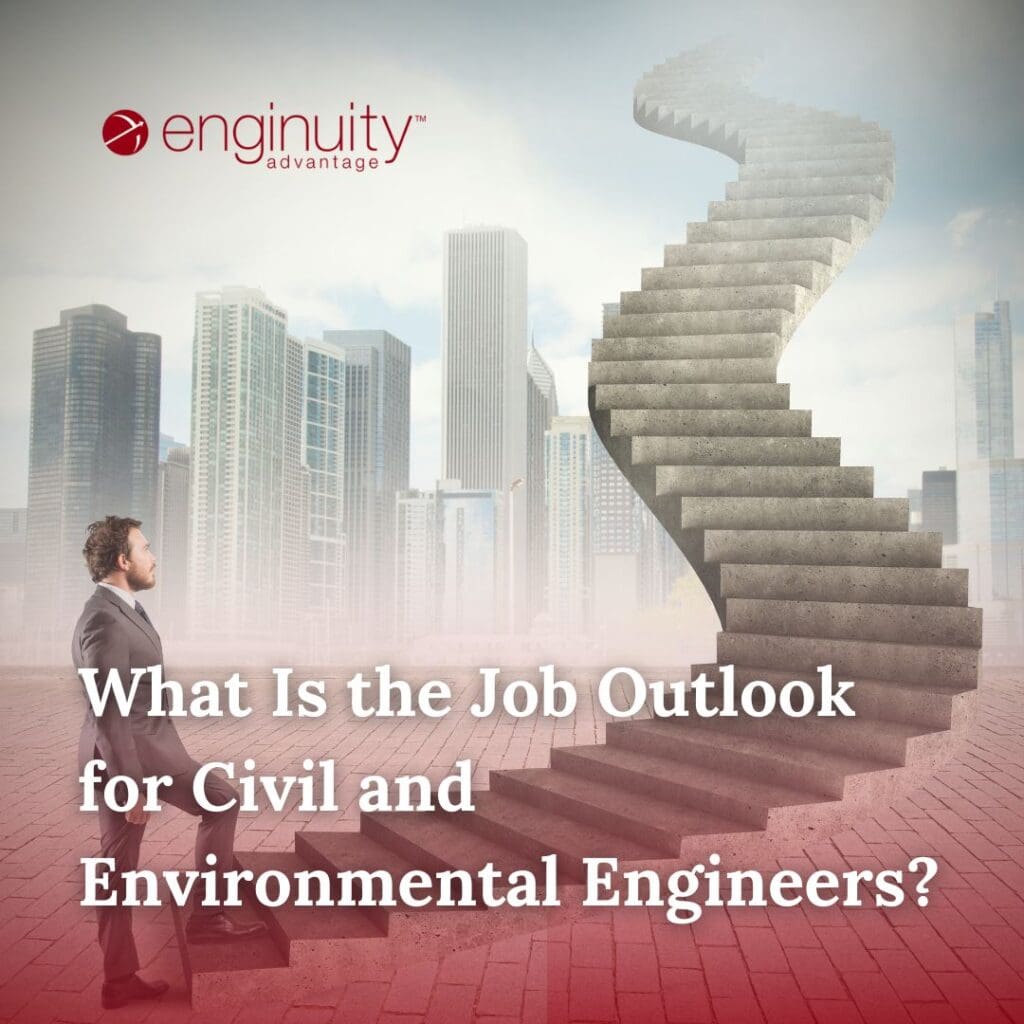 Civil and environmental engineering are two critical fields that are vital in shaping our world. From designing and constructing buildings and infrastructure to addressing environmental challenges, civil and environmental engineers are at the forefront of creating a sustainable future. You may be wondering about these professions' job outlook and future. We'll provide valuable insights into the job outlook for civil and environmental engineers.
Job Outlook
Civil Engineer
The employment of civil engineers is projected to grow 7% from 2021 to 2031, with about 24,200 openings for civil engineers projected each year on average over the decade. Civil engineers must manage projects that upgrade bridges, roads, water systems, buildings, and other structures. They will also be in high demand to oversee renewable-energy projects, such as constructing wind farms and solar arrays. The employment of civil engineers may fluctuate with the availability of project funds, as state and local governments fund many public projects.
Environmental Engineer
The employment of environmental engineers is projected to grow by 4% from 2021 to 2031. This growth rate is slower than the average for all occupations. On average, there are projected to be about 3,400 openings for environmental engineers each year over the decade. Many of those openings are expected to result from the need to replace workers who transfer to different occupations or exit the labor force.
Heightened public awareness of environmental hazards is expected to support the demand for environmental engineers. Environmental engineers are needed to help design solutions to improve water and air quality and prevent further environmental damage. They may develop plans and procedures for waste management, work on controlling factory emissions, and help ensure that construction projects adhere to environmental regulations. Additionally, they may be responsible for researching and testing new technology to reduce pollution and protect public health.
Areas of expected growth
Civil Engineer
Civil engineers are employed in a wide variety of industries. The top five industries employing civil engineers include architecture, engineering, state government, local government, and the federal government.
The architectural, engineering, and related services industry employed the most civil engineers in 2018, with over 135,000 workers.
The state government's second-largest employer of civil engineers, which employed over 34,000 civil engineers in 2018. Civil engineers in this sector primarily work on infrastructure projects and transportation systems. Local government is the third-largest employer of civil engineers, with over 21,000 workers in 2018. Civil engineers in this sector often work on municipal projects like water supply systems and urban planning initiatives.
The federal government is the fourth-largest employer of civil engineers, employing over 17,000 workers in 2018. These workers often work on large-scale infrastructure projects for the military or the Department of Transportation.
The construction industry employed over 13,000 civil engineers in 2018. Civil engineers may work on commercial or residential construction projects in this sector.
Environmental Engineer
Environmental engineers play a key role in protecting the environment, and their skills are increasingly sought after as our world faces an ever-growing number of environmental challenges.
The industries that employ environmental engineers include scientific research and development services, architectural, engineering, related services, local government, state government, and management, and scientific and technical consulting services.
Within these industries, environmental engineers work on projects ranging from energy efficiency initiatives to air and water pollution control to hazardous waste management.
They also help design systems to reduce and prevent environmental hazards like noise pollution and land contamination.
Environmental engineers make a median annual salary of $86,800. As with any field, this varies greatly depending on experience and the employer, but top earners can make up to $155,000 a year. As the demand for professionals in this field continues to rise, so will the pay for talented individuals.
The job outlook for environmental engineers is promising. As governments and private organizations continue to invest in green technology and sustainable infrastructure, there is an increasing need for talented professionals to understand environmental science and engineering principles. With plenty of opportunities across various industries, now is a great time to pursue a career as an environmental engineer.
Trends Shaping the Industry
Several trends are shaping the job outlook for civil and environmental engineers. One of the most significant trends is the increasing demand for sustainable infrastructure. With the threat of climate change becoming more urgent, engineers must design and construct buildings and infrastructure that are more energy-efficient, use fewer resources, and are resilient to extreme weather events.
Another trend that is shaping the industry is the increasing use of technology. Civil and environmental engineers increasingly use advanced software and tools to design and analyze structures, manage projects, and monitor environmental conditions. This trend is driving demand for engineers skilled in using these tools and can stay up-to-date with the latest technology trends.
The aging infrastructure in many countries is creating a need for civil and environmental engineers who can maintain and upgrade existing infrastructure. This trend is particularly relevant in developing countries where much of the infrastructure was built decades ago and requires repairs and upgrades.
The job outlook for civil and environmental engineers is very positive. With the increasing demand for infrastructure and environmental protection, the need for civil and environmental engineers will only continue to grow. As such, now is an excellent time for those interested in engineering to pursue this field.
–
Source: https://www.bls.gov/