Acing the Interview: What Construction Firms Really Want to Hear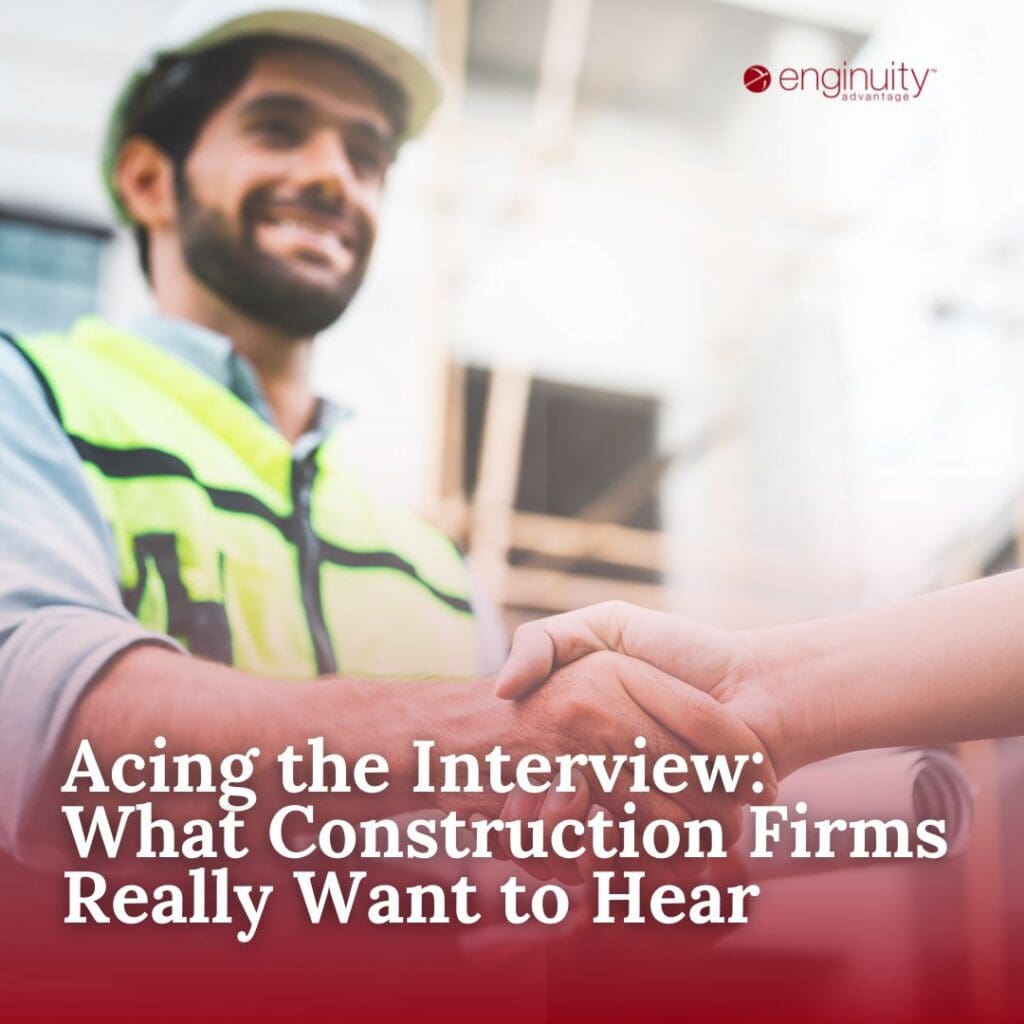 Stepping into the construction world can feel a bit like setting foot on a bustling job site. Everywhere you look, there's action. Machines hum, cranes stretch skyward, and professionals of every stripe work in harmony to bring blueprints to life. But before you can strap on that hard hat and join in, there's a crucial rite of passage: the job interview. Interviews might feel daunting, especially when you're keen to make your mark in the construction arena. But here's the good news: by understanding what construction firms are really listening for, you can navigate your way to a successful outcome. Let's dig into the specifics of what top construction companies want to hear. Ready to lay the foundation for your dream job? Let's roll!
Safety First (Always)
A survey by the National Safety Council highlighted that over 80% of construction firms place safety as their top priority. Why? Because a safe site is synonymous with efficiency, quality, and trustworthiness. Interviewers are always on the lookout for candidates who not only adhere to safety guidelines but actively promote them. When discussing past projects, be sure to highlight instances where you advocated for or implemented enhanced safety measures. Whether it was conducting regular tool-box talks, ensuring that everyone had the right PPE, or improvising to tackle unforeseen hazards, these stories underscore your commitment to safeguarding both people and projects. Remember, showcasing your proactive approach to safety can set you apart from the crowd. Safety isn't just about avoiding accidents—it's about ensuring that everyone returns home in the same state they arrived: happy and healthy. So, lean into it and let potential employers know you're in their safety-first camp.
Team Spirit: It's Not Just for Cheerleaders
Projects with high team collaboration levels are significantly more likely to be completed under budget and ahead of schedule. Employers want to hear about your ability to collaborate, communicate, and coalesce as part of a larger team. Share stories from past experiences where you've had to cooperate with different departments or professionals. Maybe there was a time when you worked closely with architects to ensure a design was feasible, or perhaps you partnered with other teams to troubleshoot an unexpected challenge during a project. Demonstrating that you understand the importance of each role and can bridge any communication gaps will emphasize your value as a team player. Remember, the stronger the team's bond, the sturdier the building. Highlight your role in reinforcing that bond.
Techno-Whiz
We're in 2023, folks! Construction tech isn't the future; it's the present.  And it's not just about knowing how to send an email or use a specific software. The real magic happens when you can demonstrate how you've harnessed technology to improve processes, solve challenges, or enhance productivity. Maybe you've got experience with Building Information Modeling (BIM) to streamline design and construction processes. Or perhaps you've utilized drone technology for site surveys, providing unparalleled accuracy and detail. It could be that you've spearheaded the use of project management software that kept everyone on schedule and under budget. Don't forget to mention if you're an advocate for continued learning and tech upskilling – firms love someone who won't be left behind as new tools emerge. Being tech-savvy isn't just a bonus anymore; it's a necessity. Show them that you're not just riding the digital wave but that you're helping to shape its direction in the construction arena.
Flexibility (No Yoga Required)
Projects change. Weather acts up. Suppliers delay. The nature of construction means facing unforeseen challenges, whether it's unpredictable weather conditions, supply chain issues, or sudden design alterations. But here's the twist: it's not just about how you handle these curveballs, but how you can turn them into opportunities. Perhaps you've managed a project where materials were delayed, but you improvised with available resources, keeping things on track. Or maybe there was a time when a client changed their mind halfway through, and you swiftly recalibrated without skyrocketing costs. Share those stories! Showcase your ability to stay cool under pressure, your knack for problem-solving on the fly, and your willingness to embrace change (even when it's unexpected). Being flexible doesn't mean being passive; it means actively finding the best path forward, no matter the obstacle. So, while you don't need to master the downward dog or tree pose, showing you can bend without breaking in the professional sphere is crucial.
Green is the New Black
It's no secret that sustainability is dominating the construction conversation these days. With nearly 40% of global carbon emissions stemming from buildings, there's a pressing need for change—and companies are on the hunt for those who can lead the charge. As of 2021, the green building sector was set to grow by a whopping 10.26% annually, signaling a massive trend towards eco-friendly practices. And it's not just about the environment. "Green" is quickly becoming synonymous with "economically savvy." Over a 25-year lifespan, energy-efficient buildings can save owners up to 50% on utilities, a figure that makes every CFO's heart sing. But beyond the numbers, there's the narrative. When interviewing, make sure to discuss any involvement you've had with sustainable projects, whether it's leveraging renewable resources, ensuring water efficiency, or integrating smart energy solutions. Highlight your understanding of LEED certifications, passive house designs, or other green accreditations. Demonstrating your commitment to not just building structures, but a brighter and more sustainable future, will set you apart. Because in today's construction world, it's clear: green isn't just a trend, it's the blueprint for the future.
The Soft Side of Hard Hats
It's a common misconception that construction is all about bricks, mortar, and raw physical power. But, as anyone in the industry can attest, it's so much more nuanced than that. In a survey conducted in 2020, 89% of construction employers stressed the equal importance of soft skills, such as communication, teamwork, and adaptability, alongside technical know-how. Why? Because construction is a deeply collaborative effort. It involves interacting with a diverse range of people, from architects and engineers to clients and local authorities. Being able to listen, articulate ideas, manage conflicts, and maintain positive working relationships can often be the difference between a project's success and failure. Furthermore, with the increasing adoption of technology in construction processes, adaptability and a willingness to learn have become paramount. Employers are now looking for candidates who can showcase examples of their problem-solving abilities, leadership moments, or times they've successfully navigated change. During your interview, don't just focus on your technical achievements. Highlight moments where your soft skills made a tangible difference, whether it was resolving a site conflict, mentoring a junior team member, or navigating a particularly challenging client request. By showcasing your holistic approach to the world of construction, you'll position yourself as a well-rounded and invaluable asset to any firm.
Hunger to Learn
In an industry that's constantly evolving, an insatiable desire to learn is invaluable. With new materials, technologies, and construction methodologies cropping up every day, staying stagnant is not an option. Employers aren't just looking for workers who can keep up; they're on the hunt for those who are always a step ahead. This means regularly attending workshops, obtaining certifications, or even taking courses on new software tools. But it's not just about formal education. Being curious about the world around you, asking questions, seeking out mentorship opportunities, or even just reading up on the latest industry trends can make a world of difference. When you're in an interview setting, make sure to discuss recent courses you've taken or industry articles you've read. Highlight how your proactive learning mindset helped solve a particular challenge on site or how it brought innovation to a project. Showing a potential employer that you're not just waiting for knowledge to come your way, but actively seeking it out, can set you apart in a pool of candidates and position you as a future leader in the industry.
Closing the Deal: You've got this! Armed with insights, stories, and confidence, you're ready to ace that interview. And hey, if you're still on the hunt for the perfect role or want to prep more, check out our open positions and resources. Trust us, there's a hard hat with your name on it, waiting just around the corner.
Ready to build a brighter future? Dive into our latest construction job opportunities now!