The 10 Highest Paying Roles in Construction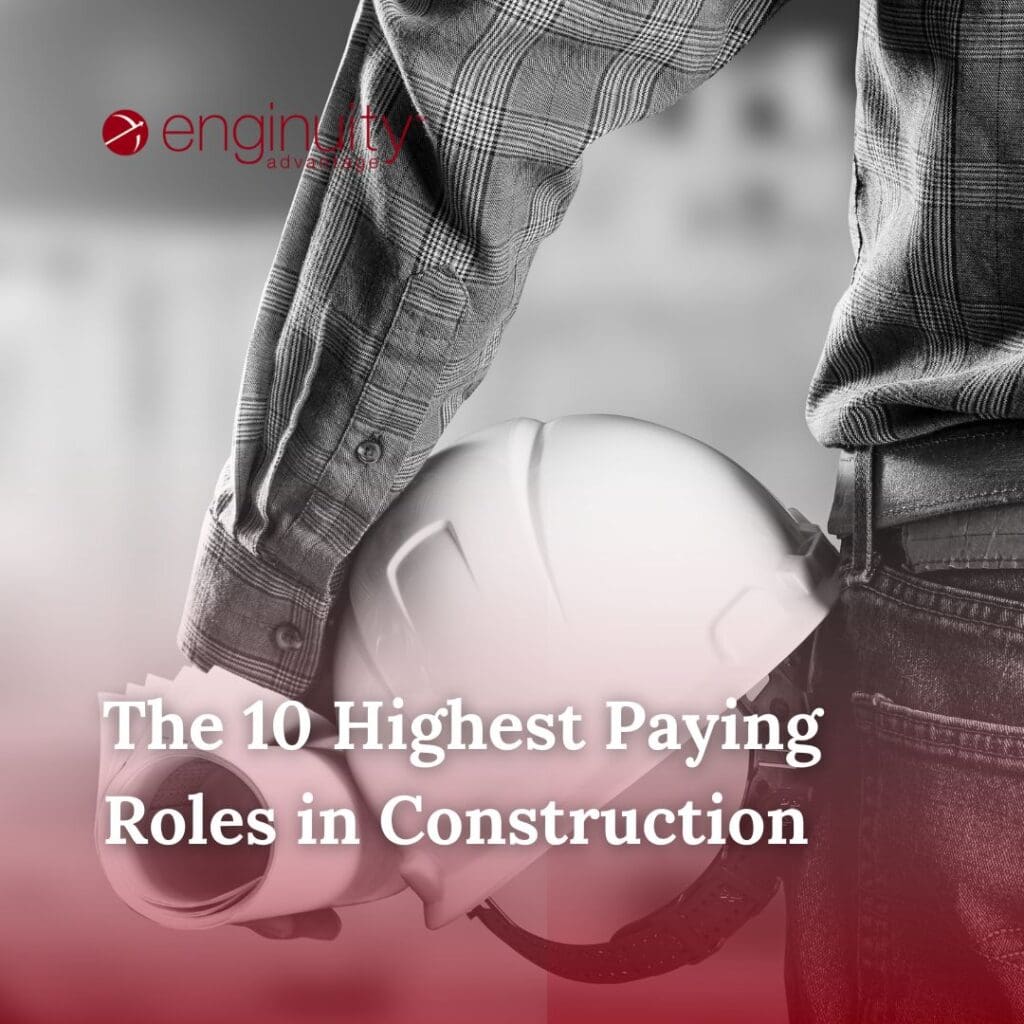 Are you considering a career in the construction industry? With so many roles and specialties available, deciding which direction to take can be difficult. Employment opportunities in the construction industry are growing in number with no sign of slowing down. Washington is one of the top-paying states, with an average of around $33.41 an hour.  But if you're looking for a high-paying construction role, look no further! We've put together a list of the 10 highest-paying construction roles, so you can decide which position is best for you.
Chief Executive Officer of the Associated General Contractors of America (AGC). Sandherr also noted that a recent survey by the AGC found that 91% of firms are having a hard time finding workers to hire.
1. Masonry Worker
Masonry workers are construction jobs responsible for building, repairing, and finishing walls, floors, and ceilings. They are experts in working with bricks, stone, marble, and other materials to create the desired look and feel of the structure. Masonry workers typically need to have knowledge of measuring and cutting materials, mixing mortar, setting forms, and pouring concrete. They must also be comfortable working at heights, often using scaffolding, ladders, and other tools to reach their desired work area. Additionally, they must also be aware of how to safely use tools such as saws and chisels when cutting and shaping the materials.  The average salary is $59,949.
2. Scheduler
A scheduler is one of the essential construction jobs as it is responsible for coordinating activities to ensure the completion of projects in an efficient and timely manner. The scheduler must ensure that all workers are aware of upcoming deadlines, that resources are available, and that all tasks are completed on schedule. They may also be responsible for creating detailed reports regarding the progress of projects and anticipating any issues or delays in order to prevent them. Schedulers should have strong organizational skills, attention to detail, problem-solving abilities, and the ability to communicate effectively with project stakeholders. Depending on their experience, they can make an average salary of around $63,780 per year.
3. Iron and Steel Workers
Iron and Steel Workers are highly sought-after construction jobs due to the level of skill required to work in this role. Iron and steel workers construct, erect, install, and repair structural steel and precast concrete structures in a variety of industrial, commercial, and residential settings. They may also perform tasks such as measuring, cutting, bending, welding, riveting, and assembling. These professionals must possess both technical skills and knowledge of materials in order to ensure a successful construction project. On average, they earn an annual salary of around $65,234.
4. Commercial Carpenter
Commercial Carpenters are one of the most in-demand construction jobs due to the vast number of commercial construction projects that require skilled workers. Commercial Carpenters typically perform tasks related to building commercial structures, such as office buildings, shopping centers, and warehouses. They may also be responsible for installing doors, frames, and drywall. Most Commercial Carpenters have completed a formal apprenticeship program or college training and must possess a deep understanding of construction codes and regulations. Commercial Carpenters often work in teams and must be able to work quickly and efficiently in order to meet tight deadlines. This job pays a median salary of $72,258 per year.
5. Construction Estimator / Project Estimator
Construction estimators are one of the most crucial, yet least recognized, players in the construction process. Building projects don't come assigned with prices. Rather, it's the job of a construction estimator to compile a list of materials to determine the estimated cost of a construction project. And as simple as that may sound on its surface, construction estimating is actually tedious, time-consuming and requires a high level of skill from estimators. While construction estimating is its own expertise, construction estimators normally have backgrounds in a few fields of study connected to the construction industry. Having experience in construction design, like engineering or architecture, is common for estimators. This makes sense, as part of the design process is determining which materials to use in order to fulfill the building design. But estimators can also have degrees in mathematics or work history in manufacturing and construction management. The average Construction Estimator's salary in Washington State is $79,451.
6. Electrician
Electricians are in demand in the construction industry due to the need for knowledgeable professionals who can safely and effectively install, maintain, and repair electrical systems and wiring. Electricians must have great attention to detail and a good knowledge of electrical codes and safety standards. Electricians typically work in both commercial and residential construction jobs and industrial and manufacturing environments. It is important for electricians to keep up with the latest advancements in electrical technology, and they must be able to accurately diagnose problems and make any necessary repairs. Electricians can expect a competitive salary and job security with the right qualifications and experience.  The average salary is $81,473.
7. Project Manager – Commercial Construction
Project Managers are one of the most important roles in any construction job. They oversee the entire project from start to finish, ensuring that all tasks are completed on time and within budget. A Project Manager is responsible for developing the project plan, managing resources, supervising the team, and monitoring progress. Project Managers must have a wide range of skills, including management, planning, communication, problem-solving, budgeting, and more. They should be organized, detail-oriented, and able to juggle multiple tasks at once. The salary for a Project Manager averages around $93,655.
8. Construction Manager
A Construction Manager is one of the most sought-after construction jobs. It's a highly responsible position that requires a significant amount of expertise and experience in the field. Construction managers oversee the planning, coordination, and execution of construction projects from start to finish. They must have an in-depth knowledge of project management principles and procedures, and they must also possess excellent communication and problem-solving skills. Construction Managers typically manage teams of subcontractors, ensure compliance with safety regulations, coordinate budgets and schedules, monitor progress, and handle any disputes that arise. They also need to be able to evaluate bids and proposals and make recommendations to their superiors about the best course of action. The average Construction Manager's salary is $95,772.
9. Superintendent of Construction
Superintendents are one of the most important construction jobs in the industry, as they are responsible for managing the day-to-day operations of a construction project. Superintendents must be organized and have excellent communication skills to ensure that each job is completed on time and within budget. Superintendents must also be able to handle the pressure that comes with supervising multiple projects at once and ensure that all safety regulations are followed. Additionally, superintendents must have knowledge of building codes and building materials. This role requires excellent problem-solving skills as well as strong management and leadership abilities. Superintendents typically earn high salaries due to the challenging nature of their position and the fact that they often have years of experience in the construction industry.  The average pay for a Construction Superintendent is $101,660.
10. Plumber
Plumbers are essential for the construction industry, playing a vital role in making sure that new buildings and renovations are constructed with efficient and effective water systems. As one of the most sought-after construction jobs, plumbing typically requires extensive technical training and experience. Plumbers must have a thorough knowledge of building codes and safety regulations and be able to work with various tools and materials to ensure the project's success. Plumbers are responsible for installing, maintaining, and repairing the pipes, valves, and fixtures associated with a water supply and sanitation systems. In addition to having strong technical skills, plumbers must communicate effectively and collaborate with other construction professionals to complete projects successfully. For their hard work, plumbers can expect to receive good pay and job security.  The average salary is $112,590.
There are a lot of great things happening in the construction industry.  When you give our team the opportunity to help you find your next professional challenge — you won't feel like you're one of many. That's not the Enginuity Way. Let's connect — we may be able to help. Now is a great time to build a great career in the construction industry.
*Note – All salaries reflect the Washington area as of January 2023 and are averages for 2-10 years of experience.