7 Insider Tips on How to Hire an Architect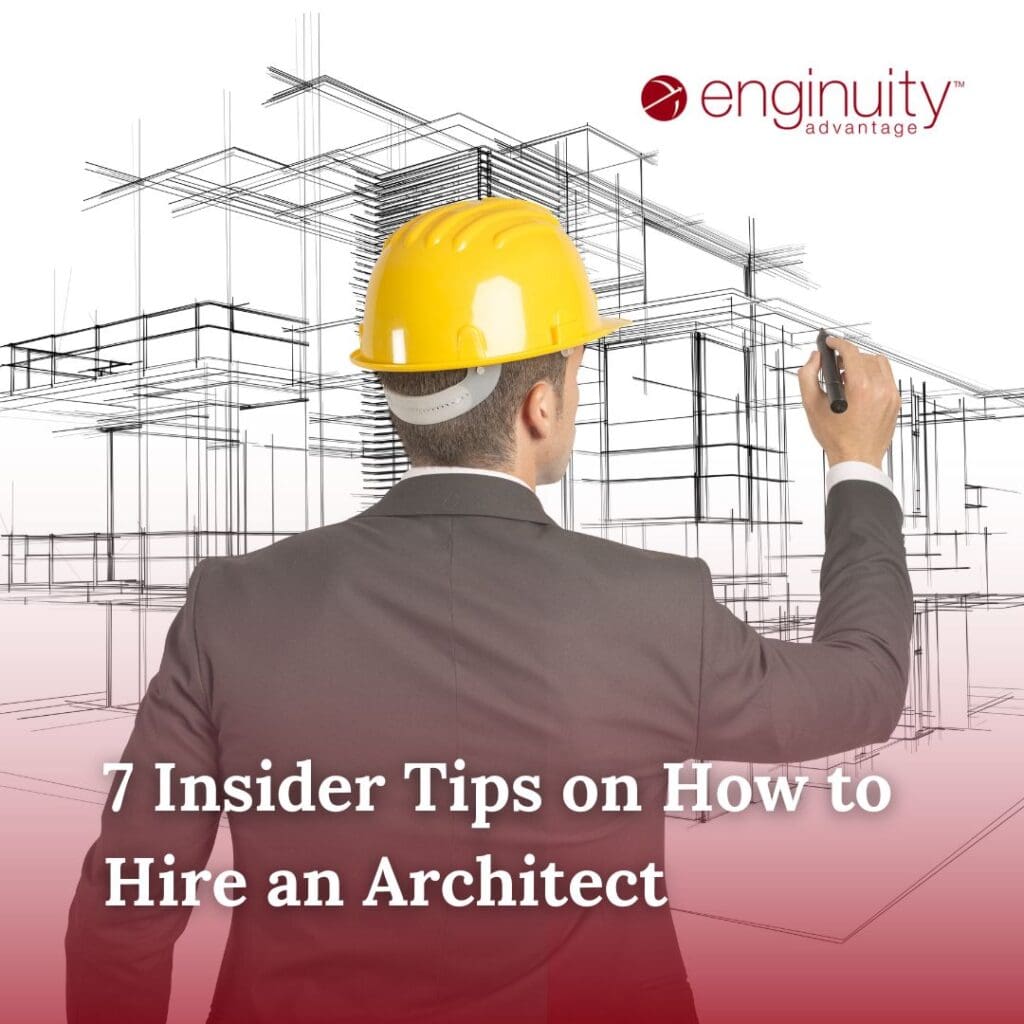 Hiring an architect is an important decision for any business. It's essential to find the right fit to meet the unique needs of your company. To ensure you make the right choice, it's important to understand the best practices when it comes to hiring an architect. Despite limited employment growth, about 9,100 openings for architects are projected each year, on average, over the decade.  Whether you're considering hiring in-house or using a staffing firm, these 7 tips will help you find the perfect fit for your company.
Know What Questions to Ask
When hiring an architect for your company, it's important to ask the right questions. Knowing what to ask is key when making an informed decision about who is the best fit for your company's project. Here are some questions you should consider asking when hiring an architect: 
What experience do they have in this particular field?

What do they consider their specialties?

Have they ever had any challenges with a project that was difficult to resolve?

How do they collaborate with clients and/or colleagues?

What challenges have they encountered on similar projects?

What does their portfolio look like?

How would they handle a difficult client situation? 
Asking these questions will give you valuable insight into whether or not this architect is the right fit for your project. It's essential to get as much information as you can before making a final decision.
Consider Their Personality
When hiring an architect for your company, it's important to consider their personality. This is because their personality will be a major factor in how well they fit into the existing team and how successful the project will be. Ask yourself if the architect has the drive and enthusiasm you are looking for. It's also a good idea to make sure they have good problem-solving skills and the ability to work independently and as part of a team. 
When considering the architect's personality, look for someone who is open to feedback, flexible, and willing to take on new challenges. These qualities are essential for any successful architect hiring process. By taking the time to assess the personality of the potential architect, you can ensure that they are the best fit for your company and the project.
Check Their References
When hiring an architect, it is essential to check their references. Finding out what other clients have to say about the individual's work can give you an idea of the quality of the projects they have completed. Ask the architect to provide references from past and current clients who have hired them.
When checking references, make sure to ask specific questions about their experience with the architect and the end product. Ask questions such as: Was the project finished on time? How did they handle changes in plans? Were they easy to work with? It's also a good idea to ask if the client would hire them again or recommend them for future projects.
By taking the time to check references, you can gain insight into how an architect operates and their overall capabilities. This is an important step when making any hiring decision and can help you find the right fit for your company. Be sure to follow these architect hiring tips for a successful hiring experience.
See If They're a Good Communicator
When you are hiring an architect for your company, one of the most important qualities to look for is communication skills. It is vital that the architect you hire can communicate effectively with both clients and colleagues. You should ask questions during the interview process to assess their ability to communicate. These could include inquiries about their experience working in teams or handling client feedback. Additionally, you could ask them to explain a project they have worked on and the steps they took to complete it. These architect hiring tips can help you determine if the candidate is a good communicator who will be an asset to your team.
Make Sure They're Organized
When hiring an architect, organization is a key trait to look for. After all, you want someone who can take charge of the project and keep things running smoothly. Ask the architect questions about their process for keeping track of deadlines, paperwork, and progress updates. It's also a good idea to look through the architect's portfolio to get an idea of how they manage their work. A good architect should be able to provide you with timelines and budgets that are easy to understand and follow. Being organized will help ensure that your project runs smoothly and is completed on time. By keeping these architect hiring tips in mind, you can make sure you're hiring someone who is organized and capable of taking on your project.
Determine If They're Passionate About Their Work
When looking for an architect to hire, it's important to determine if they're passionate about their work. Architects who are truly passionate about their craft are more likely to be engaged and dedicated to their projects. 
When interviewing potential architects, ask them questions that can help you understand their enthusiasm and level of commitment to the profession. 
Questions such as: "What motivates you to be an architect?" or "How has your past experience made you a better architect?" can give you an idea of how passionate they are about the profession. It's also helpful to ask them to talk about specific projects they have completed and what they learned from them.
You can also look at an architect's portfolio to get a better sense of their passion. If their portfolio is filled with projects that demonstrate thoughtfulness and creativity, that could be a sign that they are passionate about their work. An architect who has taken the time to document their projects with great detail is likely someone who enjoys the process of creating something unique and meaningful. 
Finally, you should observe the architect's behavior during the interview. If they seem genuinely excited about the opportunity to work with your company, that could be a sign that they are passionate about the profession. Architects who express genuine enthusiasm for the job are more likely to be engaged and motivated throughout the project. 
Hiring an architect requires careful consideration and it's important to make sure that the person you're bringing on board is both qualified and passionate about their work. With these architect hiring tips in mind, you can ensure that you find the right fit for your company.
Trust Your Gut
When it comes to architect hiring tips, one of the most important pieces of advice is to trust your gut. Even if a candidate looks great on paper and checks off all the boxes, there may still be something that doesn't quite feel right. As the employer, it's important to pay attention to these feelings and act accordingly. Ask yourself questions like: Does this person truly have the experience I'm looking for? Do they understand my company's values and vision? Do I think they can bring something special to my team? Ultimately, trusting your gut can be a valuable tool in helping you make the best hiring decision for your company.
Sometimes, hiring managers miss opportunities to set themselves up for success. They want to find the best candidates for a given position, but then they only use job postings and advertisements to publicize their vacancy. Unfortunately, the best engineers are usually gainfully employed, so they don't actively scour these resources.
The right recruiter can put you in touch with these professionals, which will help you hire more prestigious personnel.  Schedule a hiring consultation to speak to a professional.