Four Ways To Kick Interviewer Bias To The Curb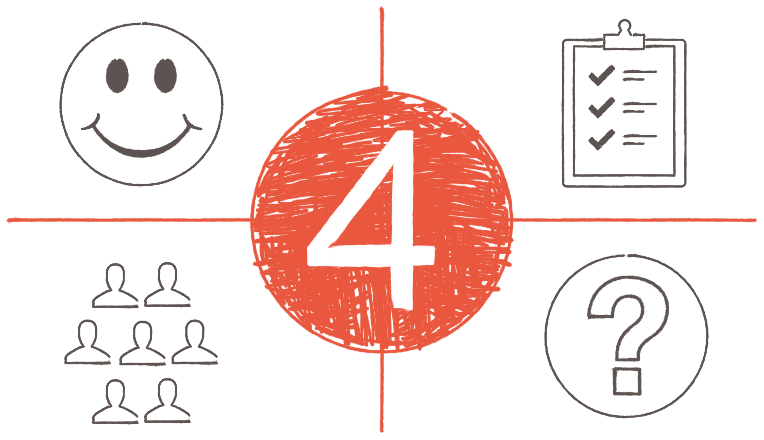 CULTURAL FIT? PRICELESS.
It's awesome to see a new recruit acing their first week on the job. They're thriving. Already connecting with clients and colleagues. Meshing well. It's evident they're aligned with the company mission and philosophy. Job well done, recruiter.
The thing is—hiring for cultural fit often gets a bad rap. There's a misconception that hiring for cultural fit is a fast track to creating a homogenous workforce. Not so. When done right, hiring for culture fit is a golden opportunity to get clear about the values of your company, and then hire a richly diverse workforce that reflects those values. Building high performing teams when hiring for cultural fit is not necessarily opposed to hiring for diversity.
INTERVIEWER BIAS STRIKES AGAIN
Hiring bias is expressed when individuals from different genders, sexual orientations, racial, economic, and educational backgrounds are not fully represented within an organization. The bias of an organization or recruiter is driven by unconscious decisions and/or conscious prejudiced decisions, and are revealed by the hiring decisions that are ultimately made.
A stark example of racial bias in recruiting was detailed in a 2003 study by Sendhil Mullainathan, Professor of Economics at Harvard University and Chris P. Dialynas, Professor of Economics at the University of Chicago. The researchers mailed thousands of identical résumés to employers with job openings, some with stereotypical African-American names, and others with stereotypically white names. What did they find? The same résumé with a "white name" was roughly 50% more likely to result in a callback for an interview than a résumé with a "black name."
Often, people gravitate towards people who are similar to them. And often, veiled in the guise of cultural fit, recruiters hire candidates based on the subjective thoughts and feelings they have about a candidate. This is another example of bias.
Lauren Rivera, Associate Professor of Management and Organizations at Northwestern University's Kellogg School of Business, researched the hiring practices of elite professional services (EPS) firms and identified recruitment practices that had nothing to do with measuring a candidate's experience, values, or work habits. ELS recruiters consistently hired candidates based on who the recruiter would most likely want to hang out with. One hiring professional Rivera interviewed described a methodology called the "Stranded In the Airport Test." The question this recruiter posed to himself was: "Would I want to be stuck in an airport in a snowstorm with (this candidate)?"
The outcome of weighing a candidate's BFF potential over a candidate's core values, work philosophy, and past experience, and vetting through this lens? No-brainer. It's one of the defining reasons why homogenous offices exist in the first place. And, most importantly, it indicates a tremendous missed opportunity for any employer; research shows gender, ethnic, and sexual orientation diversity within a group increases innovation and out-of-the-box thinking that can positively benefit the bottom line.
Silicon Valley is notorious for gender and racial bias in recruiting. The stats tell the story. A 2013 report sent to the Equal Employment Opportunity Commission exposed gender bias at Google. And the New York Times reported in 2014 that men make up 83 percent of Google's engineering employees and 79 percent of its managers, and of Google's 36 executives and top-ranking managers, just three are women. The average gender spread seen at large tech companies including Twitter, Facebook, and Apple is 70% male and 30% female.  And for tech roles, the disparity is often greater. Clearly, there is still a long way to go in battling gender bias in tech.
BIAS: HOW TO RIGHT THE WRONG
We make snap judgements about people all the time. A person reminds you of your best friend from high school. You think the university a candidate comes from is only for rich kids. You adore the jacket an interviewee is wearing. A candidates' cologne is too strong. You do—or do not—like a particular race, gender, or sexual orientation, based on your unique, personal lexicon of history, news, pop-culture, and real-world experience.
Cade Massey, a researcher at the Wharton School at the University of Pennsylvania says the factors moving a candidate forward—or not—can be influenced by the similarity between the interviewer and interviewee, despite the reality that this type of measurement does not address the work they'll produce when hired.
A strategy you can take now to facilitate a hiring process that is objective is to take a look at your current candidate pool. Are you sourcing candidates from schools, recruiting websites, and events that ultimately create a candidate pool that's 70% men and 30% women? 90% white, and 10% people of color? If yes, you're not setting your team up for success.
Think about the phrase "candidate pool" for a moment. Or the statement, "there's plenty of fish in the sea." The latter refers to dating…clearly a practice quite different than job recruitment. Or, maybe not. You as a recruiter are seeking the best candidates to choose from, individuals aligned with your values and who will contribute fully, and stay the long term. Be it with recruiting, or dating, the success of attracting your "catch" is dependent upon the quality, and variety, of people in your pool. And your pool is determined by where you're looking.
By providing a balanced candidate pool, you're providing your team an opportunity to recruit in a non-biased way. Your HR team will be pulling from a diversified, highly curated collection of people that represent race, gender, nationality and sexual orientation.
Case-in point: In a highly shared blog on Medium called "Where are the numbers?" Tracy Chou, a female Asian-American programmer at Pinterest, pointed to the dismal facts—almost 90% of her engineering colleagues were male. Two years later, Pinterest publicly outlined specific plans to recruit more women and underrepresented ethnic backgrounds in both engineering and non-engineering roles. Their plans for 2016 include expanding the set of universities they recruit from, launching an early identification intern program for freshman and sophomore students from underrepresented backgrounds, and creating mentorship programs to maximize the impact of African-American software engineers and students. They're also implementing diversity training to prevent unconscious bias and a "Rooney Rule-type" requirement where at least one person from an underrepresented background and one female candidate is interviewed for every open leadership position.
Another way to eliminate hiring and interview bias is for a selection panel to not visibly see who they're interviewing. Statistics show that blind auditions at 8 major symphony orchestras—in which each candidate's face was obscured by a screen during the audition— increased the likelihood of female musicians being selected for symphony orchestra roles by 30%. Similarly, recent studies have shown that data can help recruiters identify candidates that would match the company culture, without seeing visual identifiers.
FACILITATING OBJECTIVE INTERVIEWING AND CANDIDATE SELECTION
As an HR department, your goal is probably to see that no bias enters into your recruitment practices, and that you're bringing people into the company who are going to thrive.
Scroll down to learn 4 key ways to attract a stellar candidate that will mesh well with your organization. A process that will kick bias to the curb, right where it belongs.

1. Define Your Company Culture
Having a company manifesto, or a list of core values and behaviors helps the process. It's important your HR team can identify critical characteristics that match your culture so that subjective factors are less likely to take precedence with interviewers.
The rise of Netflix from a DVD shipping company to a favorite destination for the binge-watchers  among us is largely attributed to Netflix's company culture. Patty McCord, Netflix's former chief talent officer, was the mastermind behind the 124 page PowerPoint deck, "Netflix Culture: Freedom & Responsibility." The presentation that re-envisioned Netflix culture has been shared over 13 million times on Slideshare, and was called "the most important document ever to come out of the Valley" by Facebook COO Sheryl Sandberg.
Nine behaviors and skills that reflect Netflix's values are outlined in the deck—judgement, communication, impact, curiosity, innovation, courage, passion, honesty, and selflessness. The specificity in this presentation helped to create a culture of Netflix A-gamers. A slide reads: Our high performance culture is not right for everyone. Before hiring, the Netflix HR team had a very clear picture of the person who would thrive well, and who would not.

2. Make The Hiring and Selection Process More Objective
Be specific. Take time to craft your job description. Outline the experience level and day-to-day duties of the role. Clearly state the hard and soft skills necessary to thrive in this job. What type of person would shine here? What adjectives would you use to describe this person?
Make a list, and say it twice (or however many times you need to) throughout your interview process. A standard list of 5-10 questions is a useful tool to compare candidates objectively. The questions should touch on past experience, work approach, and yes, culture (also see #4, below). It may feel restricting to ask the exact 5-10 questions from each candidate, but it's a good way to keep things systematic. Rate on a scale of 1-5 how each interviewee answered each question. This can help at the end when making your final decision.

3. Involve Others
Have you heard the phrase, "it takes a village?" Well, in recruitment, a village can really help. Invite different team members into the interviews. Perhaps some are from the customer service department, others are from the digital marketing team, and be sure to include different levels of seniority. This diverse level of work experience, race, gender, sexual orientation and position in the company will help to mitigate any unconscious bias in the room.

4. Q's to Create a Wonderful Culture
In addition to your 5-10 standard questions, it's important to ask deeper questions that relate to your mission statement when hiring for culture. These questions may address values, community, or work philosophy.
Katie Bouton, Founder and President of Koya Leadership Partners, a national executive search firm, recommends asking these questions in an interview to recruit for cultural fit:
What type of culture do you thrive in? (Does the response reflect your organizational culture?)
What values are you drawn to and what's your ideal workplace?
Why do you want to work here?
How would you describe our culture based on what you've seen? Is this something that works for you?
What best practices would you bring with you from another organization? Do you see yourself being able to implement these best practices in our environment?
Tell me about a time when you worked with/for an organization where you felt you were not a strong culture fit. Why was it a bad fit?
Look for ways in which your candidate would integrate well. Do they like to collaborate, or do they prefer working remotely? Would they function well within a hierarchical corporate structure, or would a small organization working closely with a brand founder work best for this candidate.
The key is to listen. Listen to your internal voice, and check to see if you may have some unconscious racial or gender bias lurking within. Listen to your HR team, and together, build a specific, truthful list of core values that represent your company. And of course, listen to your potential candidate and take detailed notes during the interview to help you make the most stellar recruitment choices onward.
~Alissa