Finding & Hiring Engineers that Fit Your Company Culture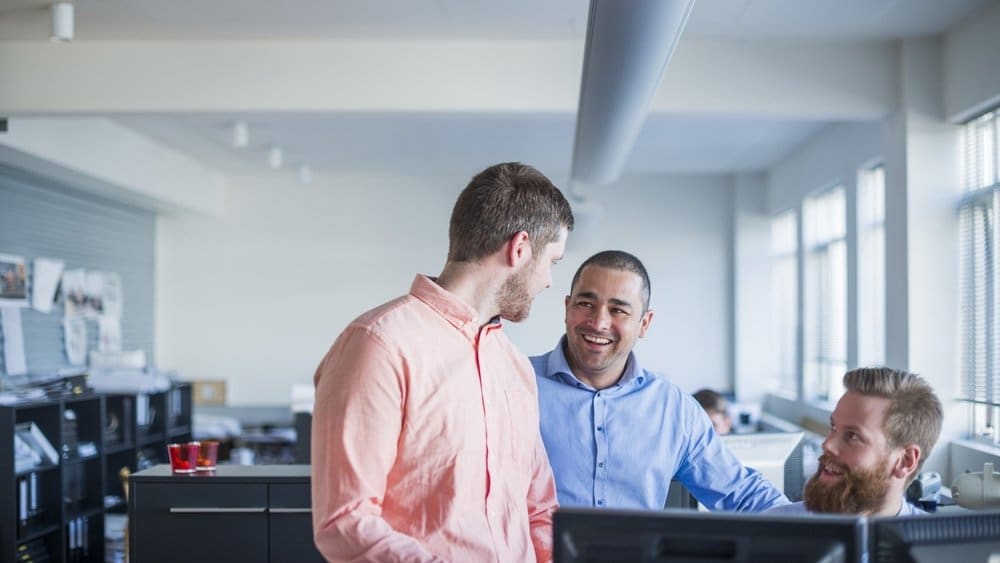 Much has been written about why companies should foster a distinctive culture. For organizations of all sizes, thoughtful investment in company culture helps retain the best talent and drive stronger results.
UNDERSTANDING COMPANY CULTURE IN THE HIRING PROCESS
Not only does paying attention to cultural fit when hiring result in happier, more productive employees, it is also becoming a key criteria for the best engineering talent. In the engineering talent space, demand exceeds supply, allowing the best engineers to be more selective. Engineers are looking for great career experiences that fit their work style and personality, not just compensation packages.
Culture Fit should be at the top of your list when recruiting engineering talent, and here's why:
HAPPY EMPLOYEES ARE PRODUCTIVE EMPLOYEES
It's no secret that happy employees are more productive which is highly beneficial for both you and the organization. But strong cultural fit also breeds creativity and innovation. Dennis Bakke, author of Joy at Work, states, "When given the opportunity to use our ability to reason, make decisions, and take responsibility for our actions, we experience joy at work."
Today's Engineers expect more than just good perks. There's nothing wrong with casual Fridays, ping pong in the break room, and free snacks and beverages. But the more relevant factors for Engineers' job satisfaction include culture-centric attributes such as highly engaged leadership, increased autonomy, flexible schedules, accessible training resources, workplace wellness, and more.
Thriving workplace culture results in increased profits. Research indicates that America's happiest companies make more money and the presence of a thriving workplace culture is no longer underappreciated.
A GOOD CULTURAL FIT MEANS PLAYING TO YOUR STRENGTHS
A recent Gallup study revealed that people who use their strengths every day are six times more likely to be engaged on the job. It states, "the best way for people to grow and develop is to identify how they most naturally think, feel, and behave – their talents – then build on those talents to create strengths, or the ability to consistently provide near-perfect performance."
Strong managers will seek opportunities to play to employee's strengths and maximize their productivity by letting them do what they do best. This is best accomplished through recruiting and hiring based on an understanding of the unique needs of each role.
FOSTERING INTERNAL ADVANCEMENT
Successful companies are "fanatical about recruiting new employees who are not just the most talented but also the best suited to a particular corporate culture" (The Economist). Skills can be developed, but work style is innate and when employees fit in, they're happier, more productive and more likely to excel. A huge benefit of hiring for cultural fit is the ability to fill your organization with the next generation of strong leaders.
Company Culture, when managed strategically by an organization, is a key driver of business health and growth. And the reverse is also true—when cultural alignment is ignored, it can actually harm growth. Culture should be personified at all levels but it is driven by leadership. Managers are eager to identify future leaders who foster the company culture which presents unique advancement opportunities for those who embody it best. Hiring for fit at all levels of the organization is the key to building an organic culture that is built into the DNA and wires a company for success. Take Apple, for example.
NEXT STEPS—HIRING FOR CULTURAL FIT
If you aren't already placing a big emphasis on hiring for cultural fit, here are a few things to think about:
Is your company culture clearly defined? This doesn't have to mean it's written on a plaque somewhere or even documented. Rather, if you asked 10 people in the company to describe it, would you get 10 different answers? If not, you need to start by defining what your company aspires to be and what values are necessary to achieve that vision. Those values lead to actions you can take to establish a company culture that is in alignment.
Are you hiring for company culture? Consider what processes and tools are being used to recruit talent, and what level of weight is placed on cultural fit compared with technical competency. Also, recruiting through job boards tends to produce.
What is your value proposition to the best talent? If you are hiring engineers or other high-demand job functions, you may need to think differently about how you recruit. Unless you want to simply buy top talent by paying more than your competitors, its in your best interest to sell the soft benefits of company culture. If you've done it right, the most attractive candidates will be the ones most attracted to your company culture.
Ask the right questions. Come up with some juicy interview questions that force candidates to describe what makes them tick. Avoid polarizing questions with an obvious "right answer". For example, you might ask, "Please describe the ideal team work style for you", or "What type of manager helps you be the most productive?"